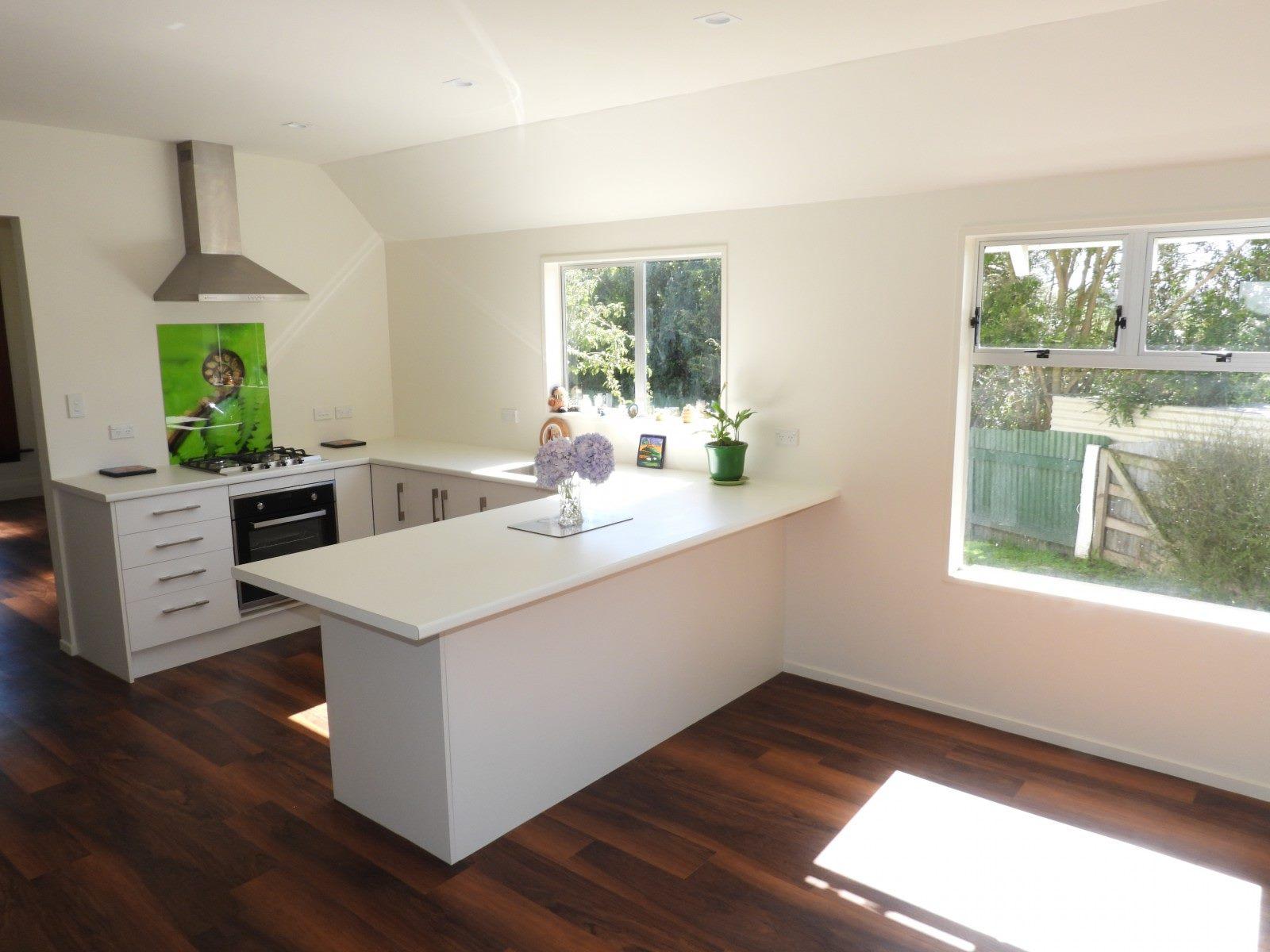 Our client who relocated from Auckland to the Waitaki district requested substantial renovations to this three-bedroom property which was built in 1930.
These are just some of their requirements.
Removal of existing WC and bath, removal of walls in existing laundry to form new bathroom. Create an opening in the wall between the kitchen and lounge. Remove existing kitchen and bathroom doors and block up openings.
Install a gas fire in the lounge, and retrofit double glazing on two windows and one door. Allow for new switchboard, wire, and terminate new range and rangehood ventilation, supply and install mechanical ventilation as per plans, and supply and install power points where required.
Organize plumbing, gas fitting, plasterboard, and painting, install new floor coverings, and install a new kitchen.
Additional lighting: two downlights to each bedroom, a downlight in the upstairs landing, a downlight in the entry hallway, one outside light, new light switches, and new power outlets.
Remove and replace the floor in the existing bathroom, and remove and replace rotten studs in the existing bathroom wall. Install flashing around the meter box. Removal of rubbish.
Remove existing wallpaper from the lounge, skim coat the walls with stopping compound. Install four flat panel wall heaters on a timer with temp control. Paint the wall and ceiling linings in the upstairs bedrooms and hallway, not including stairs.
Supply and install Van Gogh vinyl planking to the 3 x bedrooms, ensuite, Wardrobe, store room, and hall. Vinyl was installed over a new 4.75mm thinline subfloor and finished at exposed edges with aluminum threshold bars.
Supply and install Pyroclassic Mini ( a small super efficient wood burner ) and upgrade the hearth, remove T&G flooring, and replace with Strandfloor.
Remove and replace rotten floor joists in the kitchen & existing bathroom. Supply and install
Parmco fridge 253L silver, Parmco 76L oven, Parmco 600 gas burner, and Parmco lifestyle canopy SS range hood. Install a fan heater in the new bathroom and finally install a metal bar and plaster fire surround which includes painting.
The work completed by JDBUilders added significant value to the property and ensured a more enjoyable level of comfort for the occupants.