Waikouaiti is the birthplace of Otago, located half an hour's scenic drive from Dunedin City or only 15 minutes drive from Palmerston. It is a small town close to the coast and the mouth of the Waikouaiti River. It boasts a superb sandy beach and a lagoon which is a protected area for a variety of bird life. Waikouaiti offers fishing, surfing, boating, golfing, tramping, horse riding, kayaking, biking, bird and wildlife watching, just to name a few.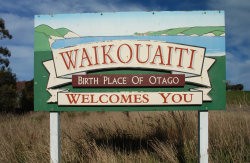 The geography ranges from flat to gently rolling hills which give a great view of the surrounding countryside. Waikouaiti has a primary school (Years 1-6), a fine museum undergoing a major renovation, a lovely Anglican church constructed by the earliest European settler, Johnny Jones, and a recently built Events Centre which can cater for theatre, weddings, and sports events, as well as housing a doctors' clinic. It also houses a modern library which hosts events on a regular basis.
Today, Waikouaiti is a retail trade and servicing centre for the surrounding district, which has sheep farming as the principal primary activity. A major egg producer, Zeagold Foods, a branch of Mainland Poultry Ltd has a 500,000-hen factory farming operation here and is in
the process of expanding over the next year to meet demand for egg products. Hawksbury, (not to be confused with Hawksbury Bush) lies 3 km southwest of Waikouaiti, and has a cheese factory and shop, a butchery, a swimming pool and housing developed from the former psychiatric hospital, Cherry Farm.