Here is a home for entertaining!
Want a home with minimal hallways and smartly designed spaces? From its quick garage to kitchen access via the scullery – great when bringing the groceries home! The main bathroom doubles as an ensuite. the inset laundry, located, straight off the scullery and the great alfresco flow to both covered and open outdoor living spaces. If three bedrooms are enough for you and you want a feature packed house, this may just be the one!
The lounge and dining area open to expansive decks, both covered and uncovered. Yet inside, thanks to minimal hallways, maximum use is made of the living spaces. A central fireplace provides a focal point while a wall of windows allows every ray of sunshine to enter.
The kitchen is central and its scullery provides additional storage and workspace and what cook doesn't appreciate this! The kitchen is also handy to the garage — great for bringing in the groceries, and to the laundry.
The master bedroom provides ample space with a walk in wardrobe and the bathroom is both ensuite and family-sized. The two other bedrooms could well double as large studies or studios and still have room to accommodate guests.
Another excellent feature of this design is that there are several cosy nooks outside for a comfy chair and a quiet read or snooze!
Overall, the Karitane house provides stylish living spaces inside and out, light-filled rooms, three good-sized bedrooms, and the cost-saving adjacent service areas. The home's sleek lines and profile will give it a real street-smart appearance.
The Master Build 10-Year Guarantee
YOUR NEW BUILD OR RENOVATION NEEDS THE PROTECTION OF A MASTER BUILD 10-YEAR GUARANTEE. GIVE YOURSELF THE PEACE OF MIND YOU DESERVE AND MAKE SURE YOU ASK YOUR BUILDER FOR A MASTER BUILD 10-YEAR GUARANTEE.
YOUR HOME BUILD OR RENOVATION IS MOST LIKELY THE BIGGEST INVESTMENT OF YOUR LIFETIME. MAKE SURE YOU PROTECT IT.
THE MASTER BUILD 10-YEAR GUARANTEE HAS PROTECTED MORE THAN 140,000 HOMES OVER THE PAST 25 YEARS. WHETHER YOUR NEW BUILD OR RENOVATION IS BIG OR SMALL, OUR GUARANTEE CAN BE TAILORED TO SUIT YOUR NEEDS.
ONLY A REGISTERED MASTER BUILDER CAN OFFER YOU THE PEACE OF MIND OF A MASTER BUILD 10-YEAR GUARANTEE.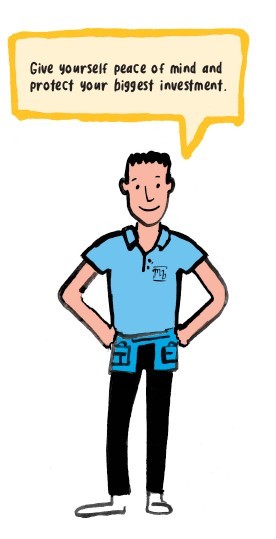 Please enter your information below