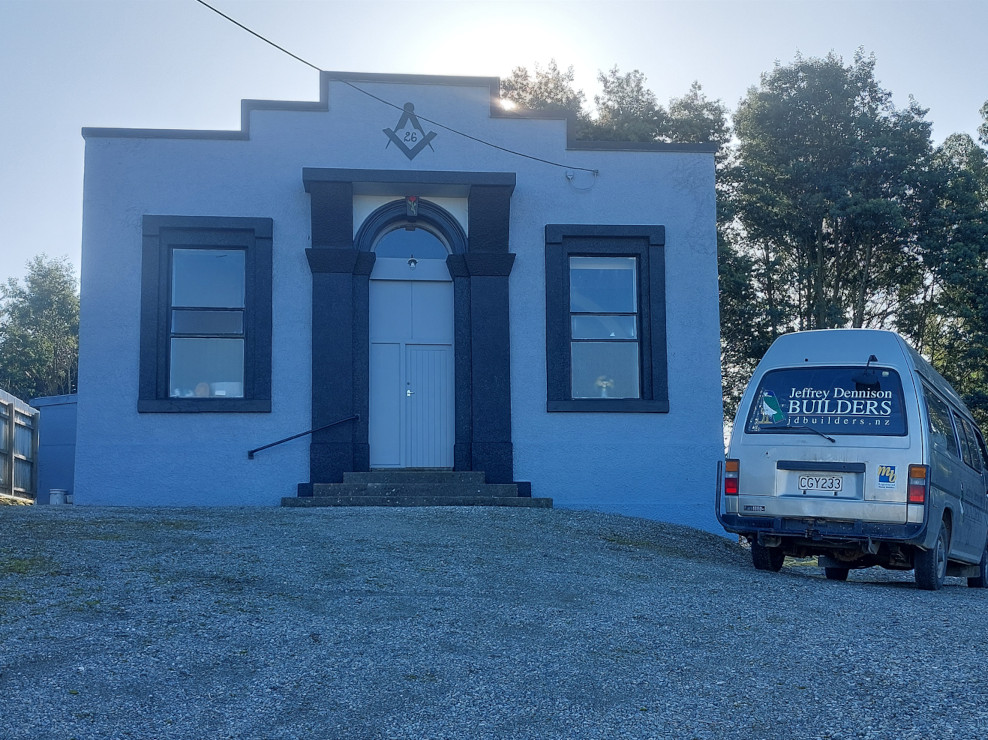 Palmerston Masonic Lodge, Palmerston, Otago
Early History:
At the 24th April, 1877 meeting it was resolved that Captain Henry Kitchener ( Uncle of Lord Kitchener) of the Grange, Dunback would be the first Master of the yet to be formed Lodge.
On 24th May, 1877 the Foundation Stone was laid, Queen Victoria's birthday, this was a fantastic achievement. It cost about £600 at the time, for the purchase of the land and construction of the building, and would accommodate over 150 people.
The Palmerston Masonic Lodge, No. 1749, was founded in 1878 under the Grand Lodge of England.
In 1890 it transferred its allegiance to the Grand Lodge of New Zealand and then became No. 26 in the New Zealand Constitution. The Masonic Hall is a substantial brick building situated on Auskerry Street.
The annual installation of the Worshipful Master and officers is held in August each year.
Scope of work:
Several businesses and individuals from the community helped with various improvements to the lodge over the last six months, including JD Builders of Palmerston who supplied free labour with their team of builders.
A summary of those tasks includes:
* Organizing and delivery of timber from the lumber yard to the lodge for the fencing border. 
* Cutting off the iron fence once installed to the correct height.
* Assisting with the installation of the LED lights due to the following advantages, Long Lifespan, Energy Efficiency, Improved Environmental Performance, The Ability to Operate in Cold Conditions, No Heat or UV Emissions, Design Flexibility, Instant Lighting, and the Ability to Withstand Frequent Switching, Low Voltage Operation. They were installed throughout the Masonic lodge.
* Assisting with the organizing of the installation of light switches and batteries for the LED lights.
* Cleaning of the spouting on this tall building.